---
1) I would like your best quotation for:
a) A semi automatic stretch wrapping machine with the following technical specifications:
– Diameter of the rotating platform = 1500 mm (pallet maximum size 800 x 1200 mm)
– Height from the floor of the rotating platform = 75 mm
– Maximum pallet height = 2200 mm
– Maximum pallet weight = 2000 kg
– Variable speed of the turntable = from 3 to 12 RPM
– Photocell for automatic pallet height reading
– Supply voltage = 220V 1PH+N+P 50/60Hz
– Installed power = 1kW
– Stop in the starting position
– The chassis of the rotating platform must have special front/rear dents to facilitate moving the pallet with a forklift
– Documentation: electrical diagram, operation manual, and spare parts list
b) Pallet loading ramp for the above stretch wrapping machine
For better understanding my request, I have attached pictures of the needed product (wrapping machine + ramp).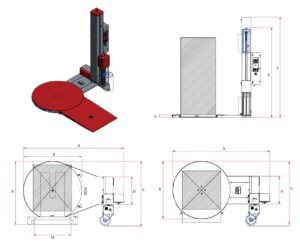 2) In addition, I am interested in your self-propelled pallet wrapper robot. Please email me your best technical and financial quotation.
I am looking forward to receive your quotations as soon as possible. If you have multiple options for my requirements please email them to me.
A semi automatic stretch wrapping machine with pallet loading ramp