---
Non-woven fabric is a textile made by bonding fibers together through a combination of special chemical bonding, mechanical or heat treatment methods. The entire production process does not involve machines or hand weaving. The two main types of nonwovens are NWF in polypropylene and NWF in spunbond-meltblown-spunbond (SMS), and there are many differences in their manufacturing processes.
Polypropylene NWF:
Polypropylene is a fabric made from soft plastic fibers that fuse together when passed through ultrasonic waves and steam. This material can be made into different thicknesses and has a wide range of applications. At the same time, due to its hygienic properties, it has also become an ideal material choice for the health department to manufacture sanitary products.
NWF in Spunbond-Meltblown-Spunbond (SMS):
This fabric consists of 3 layers and is also made of 100% polypropylene. Among these three layers, the outer two layers are spunbond layers and the middle layer is meltblown layer.
After experiencing the impact of the epidemic, the application and consumer market of non-woven fabrics have undergone great changes. Its usage has increased many times compared with before 2019.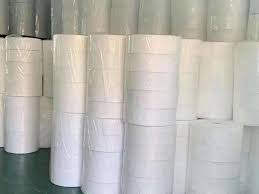 After non-woven fabrics are produced, they are usually rolled into rolls and we need to package the rolls by wrapping. Good packaging can protect the products from dust, moisture, etc., keep the appearance of the products neat, and facilitate the storage of goods. For rolled products, the best packaging method is to use a jumbo roll wrapping machine:
The jumbo roll wrapping machine is mainly suitable for axial packaging of cylindrical objects to achieve overall wrapping. At present, the width of non-woven fabric rolls is generally between 300-600mm, and its outer diameter is often much larger than its width. For such extremely narrow roll-shaped objects, the jumbo roll wrapping machine is not suitable because it is easy to loosen and fall off.
Which Wrapping Machine is Suitable for Non-woven Fabric Rolls
This special wrapping machine is designed for non-woven fabric rolls, it's not easy to fall off and the packaging is compact. There is clamping device added to the roll wrapping machine. Keep the non-woven fabric rolls stay stationary during the wrapping process.
A Special Wrapping Machine for Packing Non-woven Fabric Rolls