---
The aluminum profile wrapping machine is used to pack the finished aluminum profiles and wrap them with kraft paper, woven fabric or plastic films and tapes, which can protect the surface of the aluminum profiles and avoid damage during transportation and storage. It is specially designed for aluminum profile manufacturers with characteristics of beautiful appearance, low noise, firm and uniform packaging of aluminum profiles, and simple operation. Standard packaging, can be adjusted according to your requirements.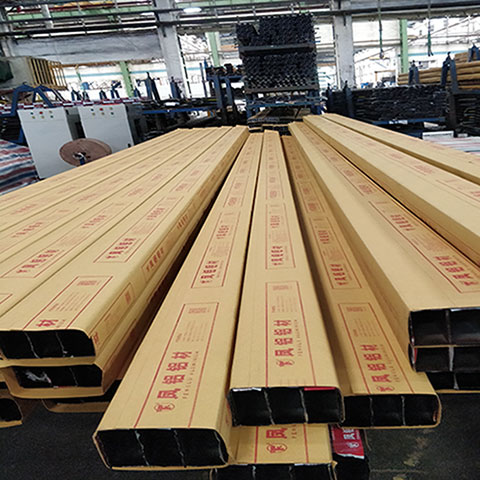 The aluminum profile wrapping machine can not only improve production efficiency and save costs, but also make the finished aluminum profile more perfect, allowing your products to bear your brand and logo on the packaging. It wraps with various materials such as stretch film. After the product is packaged, it is beautiful, waterproof and rust-proof, which is convenient for transportation and storage.
Machine's advantages and special features:
Stretch film is less expensive than other packaging materials;
At start and end – the number of packages can be adjusted via the control panel;
Fast packing, saving effort;
Automatic clamping to hold the film;
Suitable for use with stretch film rolls;
Coils of various sizes can be wound on the same machine.
Our line of aluminum profile packaging machines has been specially designed to minimize the need for components in the packaging department of your company. We produce 3 different models of aluminum packaging machine lines, which enable our customers to pack and palletize faster and smoother, thereby reducing costs.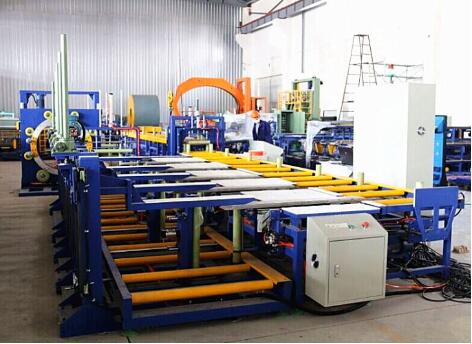 Our fully automatic lines can handle different packaging materials (stretch film, PE or paper) and run at speeds of up to 40 meters per minute. Aluminum Profiles Our packaging line can be synchronized with the shrinking line and run as a separate line at the same time. According to the customer's production requirements, after the profiles are packed, a palletizing and pallet stretching device can be added to the machine. Fully automatic line, no need to touch hands; stacking tricks, high-speed packaging, automatic strapping and tearing, automatic pallet stacking, operated by one operator.
Your machine can be manufactured in different ways according to your order and production system. This is the ideal machine for lashing aluminum profiles before loading them onto trucks or putting them in crates/boxes. The machine uses two crepe paper or nylon/plastic tape rolls at the same time.
Speed regulation: through frequency converter
Machine dimensions (standard): W 1500 mm x H 1500 mm x L 1600 mm
maximum. Speed 40m. per minute in "continuous" mode (standard machine).
maximum. Bale Size: Rectangular 350mm W x 200mm H or 150 x 150mm Square
minute. Bale Dimensions: Rectangular 40mm W x 20mm H or 40 x 40mm Square
Packaging materials used:
Two rolls of nylon stretch film or kraft paper:
outer diameter. up to 350 mm
the inside diameter of. 50 or 76mm max (to be confirmed)
Width 100 /120 mm
The machine is designed with a compact steel frame. Packing material can be changed quickly and easily (within a minute) using the bayonet-type quick-change holder for the packing material roll. The profiles are pulled through the machine by a series of rollers that open and close automatically, allowing bales of different sizes to pass automatically without stopping the machine. The winding unit consists of a rotor that rotates and holds a roll of stretch film supported by a mandrel with a specially designed clutch designed to keep the tension constant until winding is complete; these rolls can be easily and quickly changed in less than a minute. The speed is regulated via a potentiometer-controlled electronic inverter located on the main control panel. Automatics sense when a roll is exhausted or the packaging material is torn, bringing the machine to a complete stop and alerting the operator. The machine is designed to operate in a "stop and go" mode, with the blades automatically cutting the packaging material at the end of each packaging cycle.
Wrapping machine made for packing aluminum profiles specifically