---
The steel coil wrapper and packing machine can also be widely used for various round objects, such as wire rolls, copper coils, aluminum coils, cable spool, pipe coils, bearings, etc., so as to protect the products from water and dust. , Rust and scratches, which is easy for the store and transportation.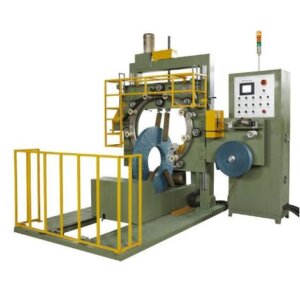 The steel slitting coil stretch wrapping machine is not only be used for the packaging of winding slit coils, but also can be widely used in the manufacture of other coils such as steel coils, copper coils, aluminum coils, copper wire coils, steel wire coils, and cable rolls for sealed, waterproof, dust-proof, rust-proof package. This coil wrapping machine uses paper to wrap the coil-shaped product in a spiral manner through the eyes of the coil. This machine can greatly simplify your packaging operation and free up your labor.
Basic Features of this coil wrapping machine:
*The slitting coil packaging machine is equipped with a movable packaging device for convenient and safe coil loading and unloading.
*Using a converter to adjust the speed of the ring and roller, it can also be used to change the overlap of packaging materials.
*The friction wheel is made of durable high-friction PU.
*Integral integral casting structure, used for the rotating ring of the slot coil packaging machine.
*Customized packaging solutions according to specific coil size.
*Removable packaging station (trolley/ mobile wrapping station) for easy roll loading.
*Special brake for tape release device to avoid material folding.
*Applicable to a wide range of packaging materials: LLDPE stretch film; PE film: gravure paper; VCI papers; woven tape.
Steel slitting coil wrapping machine for variant steel coil products packaging