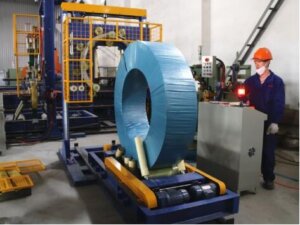 Application of this machine:
The steel wire packaging machine is mainly used for the outer packaging of ring products. Safe operation and easy maintenance. Ring packaging machines can generally be customized according to specific requirements. In order to make the packaging have a good sealing effect, you can choose a variety of different packaging materials, such as woven tape, composite paper tape, stretch film and so on. Through wrapping and packing, the coil items will be well protected and sealed, and will be preserved well for a long time.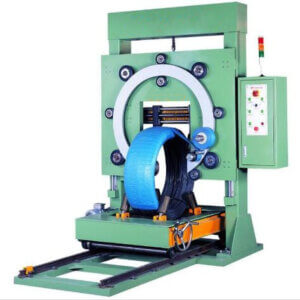 Operating procedures:
*Install the wire coil and steel coil on the trolley of the machine by crane/hoist/C-hook, etc.;
*Move the trolley to the wrapping station;
*Fix the packaging material on the steel coil;
*Start packing and automatic stop;
*The steel coil trolley removes the packaged steel coil / wire coil from the wrapping station;
*Unload the packaged coil and start the operation of the next coil.
Basic Features:
1. The main components of the steel wire coil packing machine adopt well-known brands.
2. Modular design ensures stable performance and easy maintenance.
3. PLC program and HMI touch screen. Enter the outer diameter, inner diameter, width and correction parameters of the product, and the PLC will automatically calculate the required packaging tape length.
4. Automatic loading trolley for loading and unloading heavy steel coils.
5. Independent electrical cabinet, easy to operate and maintain.
6. The overlap and tightness of the packaging tape can be adjusted as needed.
7. The height of the swivel can be adjusted to adapt to different sizes of products.
8. Automatically cut the packaging tape through the calculation of the program.
9. The roller is wrapped with polyurethane to protect the surface of the steel coil and roll.