---
The door shrink wrapping machine is specially designed for horizontal long shape objects and products like door/wood panel/aluminum window /PVC and WPC door and frames ….packaging.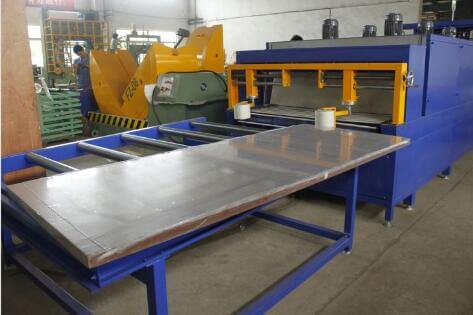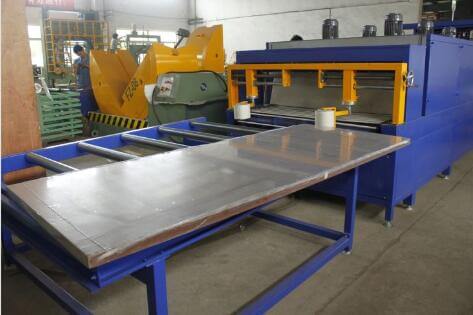 The available heat contractable film can be used to make a complete and fully sealed shrink wrapped package in various product sizes without any leak. The machine is mainly composed of an automatic sealing machine and a heat shrink furnance machine. The packaged goods are well protected and sealed, and have a beautiful neat and transparent appearance, which is convenient for storage, sale and transportation.
Main characteristics of the door shrink wrapping machine:
This shrink wrapping machine can be used independently or in combination with an automatic production line for automatic shrink wrapping packaging.
Automatic PLC control and HMI for more convenient automatic operation.
Fully sealed and shrink wrapping packaging.
Machine uses photoelectric sensor for induction of products to fix the position.
Two feeding modes, auto/manual can be selected on the control panel.
Using PE film loaded on the roll rack, the machine will automatically seal the three sides.
Constant temperature heat sealing and cutting system is suitable for reinforced and thick PE shrink film.
The sealing width can be adjusted according to different products.
The speed of the feed forward system is adjustable, and the workbench is combined at the end of the tunnel to make the whole machine highly automated, and it can run automatically without any operator.
High-speed hot air circulation shrink tunnel, distribute heat to every corner.
Sealing system: permanently heated sealing rod, with easy-to-replace sealing sheet, no peculiar smell, temperature is controlled and detected by PLC.
Door shrink wrapping machine packing door panels by sealing and shrink wrapping