---
The orbital tube stretch wrapping machine is used to wrap single tube or combined tube bundles packaging or other horizontal objects so that it is well protected and sealed from water, dust, rust and impact, and the packaging looks neater and cleaner. The packaging materials suitable for the machine are nylon tape, woven plastic, stretch film, etc.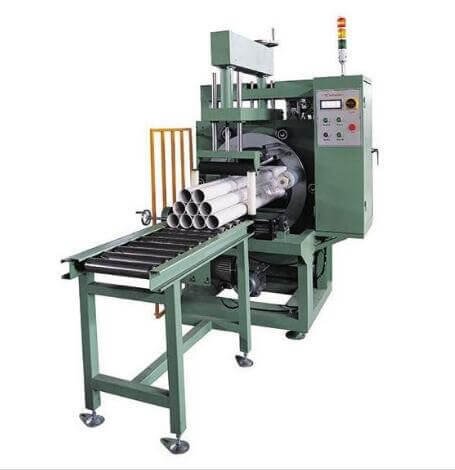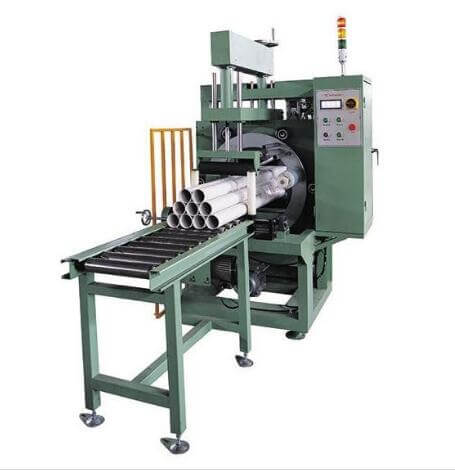 Basic Features of the tube packing line:
PLC controller and HMI touch screen operation.
Automatic fault alarm.
Adopt friction structure to ensure safe, stable and powerful operation
The photoelectric sensor can automatically track the object for precise positioning.
Special tension adjustment system can ensure the uniform tension of the material.
Manipulator options for automatic feeding and cutting operations.
The height of the ring board can be adjusted;
Soft start and soft stop ensure safe operation.
Independent control cabinet, easy to operate and maintain.
The length of the conveyor belt can be customized as required.
Two different materials can be wrapped at the same time (optional).
Basic operation:
Place the steel pipe on the feed conveyor.
When the sensor detects the steel pipe, the steel pipe is automatically transported to the packaging location.
The steel pipe stops automatically when it is in the packaging position.
Manually fix the packaging material on the steel pipe.
The steel pipe is automatically packed through the wrapping paper.
Use manual or robotic hands to cut and fix one end of the packaging material.
Transport the packed steel pipe to the export conveyor.
Unload the packed steel pipe.
End the loop.
Automatic orbital tube wrapping machine