---
Wood, cardboard, plastics, metal, etc…. are the most common material that has been used for packaging throughout the history. They have the function of contain and preserve the products with safety and clean environment. But today's packaging has more than just these traditional material, and it's getting to be more and more safer and smarter.
Packaging is an essential part of all industries, and it's main function is to protect the products under the harsh environment during the storage and transportation. For large machinery, what can we do to have a suitable package when transporting it by ocean shipping. We will take our packaging machine as the example to demonstrate how we gonna do for the preparation.
We will use specific packing material and special way for the ocean shipping products. Products usually are placed in standard container. Most times, they will be placed on pallets, or inside wooden crates or cages.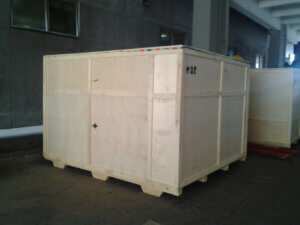 We cover the machine with PE stretch film fully sealed and wrapped when it's secured and inside the container. And  they will be covered with thick and recyclable PE sheets when they are placed and fixed on their base in order to protect themselves from the dust and external agents. This way of packaging is suitable for machines like turnover machine, pallet inverter and pallet stretch wrapper machine. They are machines with reinforced structure and made of thick and heavy metal material, slight hit or rust doesn't affect it's function.
Besides these, there is also an upgrade "Vacuum" packaging which uses the air extraction pump to vacuum all the air out. To do it, we first to make the product fully bagged inside the airtight aluminum foil made bag. Then to vacuum the air out and seal the bag to prevent air getting into the bag. The Vacuum packaging is suitable for machines like coil wrapping machine, thermal sealing machine. It prevents the rust or the hit during the ocean shipping, which may affect the performance of the machines.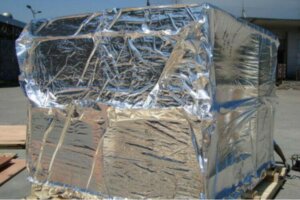 When making the ocean shipping packaging, there is the concept we bear in mind. The period is up to 1 month, and choosing the right export packaging material and method make the most guarantee for the machine arrives at it's final destination in perfect condition.
What's the suitable material for export packaging?