---
With new technology and new material, today's packaging machine can achieve higher profitability, energy efficiency and occupational safety for the machine's users. At Emanpack where we are committed to the innovation of logistics packaging process, especially in the development of new technologies and materials, and strive to make you satisfied as the manager of the packaging factory and add value to your products.
In today's competitive market, all companies that want to improve productivity and energy efficiency at work must invest in new intelligent logistics packaging machines. By installing our solutions and packaging machines, we can realize the industrial automation and digitization of packaging phenomena in your factory, and always ensure the best results at the most favorable price.
Intelligence of logistics packaging machine is a management concept, which aims to realize the comprehensive integration of logistics processes by connecting all factors involved in the packaging chain and relying on new technology and industrial automation at each stage of the chain. It is essential for us to prioritize computerization and automation through various innovations in packaging machines and processes, with particular emphasis on always achieving the highest possible profitability.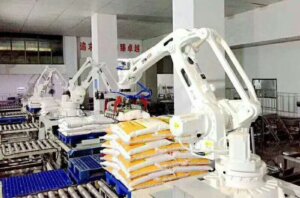 We have two different industrial packaging machinery production lines; The first consists of equipment specially designed for cold work, and the second consists of all our hot work machines. At Emanpack where we have the most advanced packaging equipment and system catalogue, which is specially designed to optimize the furniture packaging line in a fully automatic way, seeking the highest profitability and best experience for our customers.
Look at our rotary wrap packaging machine. The advantage of rotary wrap packaging machine is that it can package a wide range of products with stretch film, and it can also reduce the cost of applied materials, which means a significant improvement in profitability.
The stretch film of the rotary packaging machine allows the packaging to be stacked, with greater retention. The packaging process is more economical than shrink packaging because it consumes less energy and does not need to adapt to the size of the drum to the product to be packaged. The product is placed in the center of the feed conveyor and the packaging process starts automatically. Through the rotating ring, the product is spiral packed by the stretch film placed on the rotating ring, so that the product is fully packed on all sides and opened in front and back. This is a packaging machine designed to increase productivity while reducing costs, use recyclable materials and ensure innovative and high-quality packaging for any company or industrial plant.
Intelligent logistic packaging machine bring automation and efficiency to you