---
Purchase of a shrink wrap packer (tray + film or backing + film) with a capacity of 20,000 bph. (55 packs / min)
Purpose of the assignment: purchase of a shrink wrap packer for 18 liters.
Description of equipment: The machine is designed to create a group transport packaging of products in a tray or on a substrate with subsequent shrink film packaging.
Technical requirements:
3.1. Specifications:
3.1.1. The maximum line speed for bottling is 18,000 bph.
3.1.2. Type of bottled product: water-alcohol mixture (vodka, liqueur, tinctures)
3.1.3. Type of packaged product: glass bottle
3.1.4. Bottle volume, l: 0.25; 0.5; 0.7; 1.0.
3.1.5. Number of bottles in a package 6; 12; 20
3.1.6. Bottle shape: cylindrical
3.1.7. Packing format (see Appendix 2)
3.1.8. Productivity, packs per minute: 55;
3.1.9. The size of the formed block (box), mm. Min 281 x 224 x 144, Max 306 x 231 x 339
3.1.10. Film type: shrink film
3.1.11. Film thickness, microns no more than 80
3.1.12. Film roll width, maximum, mm 500
Machine requirements
This machine must work in automatic mode and include:
– friendly HMI-interface with a touch-panel with a diagonal of at least 10 inches with a cover of shock-resistant glass;
– a security system, including light curtains and interlocks to prevent injury to service personnel and damage to equipment;
Formats must be unlocked with at least 70 cells.
General requirements for equipment
4.1 The supplied equipment must be new. The date of release of the equipment is confirmed by a technical passport, information on the nameplate (nameplate). The nameplate should include information: manufacturer, model, date of issue, serial number.
4.2 The equipment should not show any signs of operation, except for the operations associated with the test.
4.3 The following documentation should be included with the equipment:
– electrical schematic diagram;
– instruction (manual) for operation, maintenance and installation, containing a technical description and a catalog of parts;
The equipment must have:
– Convenient human-machine interface (HMI) for convenient operation and receiving all the information necessary for the operator in English;
– the possibility of establishing new formats without involving the manufacturer's specialists;
– a light and sound column confirming the current state of the equipment;
– emergency stop buttons, door limit switches and other mechanisms ensuring safe operation and maintenance of equipment;
– a set of spare parts (if provided by the manufacturer).
Packaging and Shipping Requirements
The packaging must be carried out by the manufacturer, based on the specifications developed by him.
Packaging should ensure the safety of the equipment and protect it from mechanical damage during loading and transportation.
Documentation, packing lists must be placed in waterproof packaging.
The packaging must be marked with a transport mark.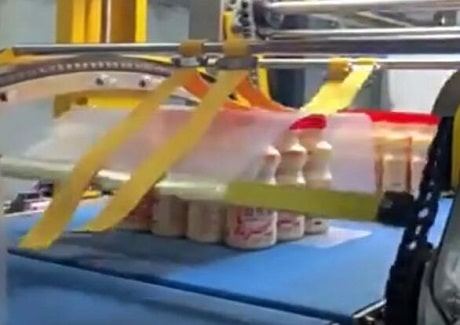 Shrink wrap packer for 18 liters bottles