---
Your ideal bearing packaging solutions and bearing wrapping packing machine
Bearings are used in many machines, such as automobiles, airplanes, generators and so on. Bearings are even used in household appliances such as refrigerators, vacuum cleaners and air conditioners. Bearing packaging solutions from EMAN packing team for you.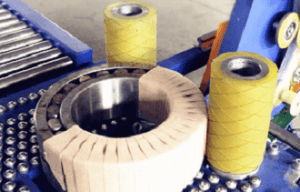 Bearings support the rotating shafts of the wheels, gears, turbines, rotors, etc. in those machines, allowing them to rotate more smoothly.
In general, all machines use a large number of shafts for rotation, which means that almost all machines use bearings, so bearings are known as the "bread and butter of the machine industry".Bearings may seem like simple mechanical parts, but without them our machines cannot function properly, seriously affecting our lives.
Vertical and Horizontal types bearing packing machine, semi-auto and full-auto packing machines with film or paper or woven belt…
Full-auto machine model with packing material cuting system, doesn't need any manual operations.
Eman team can produce your ideal packing machine model for your coil products.
Your ideal bearing packaging solutions and bearing wrapping packing machine